In the Know Education Series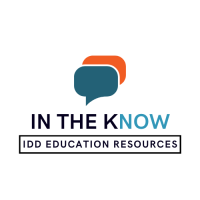 Our In the Know education series is designed to educate and elevate awareness of timely and relevant topics impacting the quality of life for individuals with Intellectual and Developmental Disabilities (IDD).
This Flu Season and COVID Updates session will focus on the importance of maintaining your health and the health of your loved ones during the upcoming flu season, updates to vaccines, and information on COVID. 
Please register to attend this meeting. Provide your first name, last name, and email address on the registration form. We will email you an invitation to join the meeting. If you have questions, please contact This email address is being protected from spambots. You need JavaScript enabled to view it.
Note: The only supported browsers for joining a Microsoft Teams meeting are Edge and Chrome. If you want to download the Teams application on your phone or computer, it is free but you will need to set up a Microsoft account to log into the meeting with it, using the same email address as the one you invite to the meeting.
Please confirm that you have read and agree with the following statement:
IMPORTANT—YOU CONSENT AND UNDERSTAND THE FOLLOWING BY REGISTERING FOR ANY ONLINE MEETING:
This online meeting will be video-recorded and uploaded to the Partners Health Plan website for public viewing. Individuals who turn their computer's camera on and/or microphone and speak during the presentation will be recorded. By continuing the online meeting registration process, you agree to participating in a recorded online meeting that will be shared publicly. Please do not turn your camera/microphone on if you do not wish to be recorded. You can also use the online meeting chat functionality to maintain anonymity. If you do choose to turn your microphone and/or camera on during the recording, you are providing consent and authorization for Partners Health Plan to utilize your audio/video recording when this is posted to the website for public viewing.